Eclipse PRP
---
Eclipse PRP® is a proprietary system that is based on blood separation according to density using a unique separation gel. The PRP platform is available with an 11 mL PRP collection tube or 22 mL high concentration collection tube. The system allows for the preparation of pure Platelet-Rich Plasma (PRP) with optimal platelet concentrations and cellular content. Virtually, all Red Blood Cells (RBC) are eliminated from PRP and the concentration of pro-inflammatory Granulocytes (GRs) is highly reduced.
The Eclipse Platelet-Rich Plasma Difference
Simple:

Fewer steps than other PRP (platelet-rich plasma) systems
Superior: Optimal platelet recovery 87% ± 10%
Safe: High-tech gel designed for safe and consistent preparation
Fast: Centrifuge with a single spin in a matter of minutes
Convenient Procedure: Takes less than 30 minutes
Patient Friendly: Small volume of blood required
Platelet-Rich Plasma is prepared by taking a small sample of the patient's own blood, then separating platelets from Platelet-Poor Plasma (PPP), RBC and GRs via centrifugation. Next, the PRP is collected and may be applied to the treated site. The whole preparation process only takes up to 20 minutes.
What is Platelet-Rich Plasma?
Platelet-Rich Plasma (PRP) is an autologous concentrated preparation of platelets and the associated growth factors in a small volume of plasma. Platelets are a natural source of a number of growth factors in their natural and biologically-determined ratios.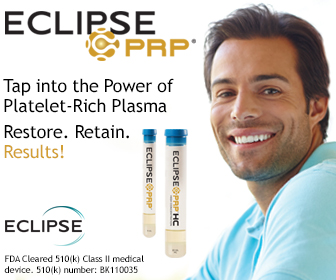 Platelet Growth Factors
Upon activation, platelets release growth factors and other molecules. These growth factors are regeneration-promoting signaling molecules, such as Platelet-Derived Growth Factor (PDGF), Transforming Growth Factor group (TGF), Epidermal Growth Factor (EGF), Vascular Endothelial Growth Factor (VEGF), Fibroblast Growth Factor (FGF) and others. These molecules are shown to regulate the healing cascade, including inflammation and cell proliferation.

1
What Is Automated Micro-Needling?
Automated micro-needling is an innovation in aesthetics for the treatment of the appearance of fine lines, acne scars and the skin's texture, tone and color. Eclipse MicroPen® is the most advanced medical-grade automated micro-needling device on the market.
The benefits of micro-needling can included a reduction in the appearance of fine lines and wrinkles, younger-looking skin with fewer signs of aging. Eclipse MicroPen® may also has a positive effect on the appearance of hyper-pigmentation, hypo-pigmentation, acne scars, traumatic scars and stretch marks and generally creates a fresher appearance or glow to the skin.
3
What Areas Of The Body Can be Treated?
Eclipse MicroPen® can be used on all parts of the body, including the: face, neck, décolleté, arms, hands, legs, abdomen and back.
4
How Is The Procedure Done?
A sterile cartridge containing 12 points is attached to the Eclipse MicroPen®. Dr. Steen will apply a thin layer of sterile saline to your skin and select the appropriate pen setting based on your unique needs. Next, in a single motion, the pen will be gently pressed against the skin while simultaneously gliding in one direction until the entire treatment area has been covered.
The feeling associated with the Eclipse MicroPen® is similar to light sandpaper being moved across the skin. While some areas are more sensitive than others, the speed of the reciprocating tip reduces discomfort while the applied hydrating gel also makes the treatment more tolerable.
6
How Long Does The Procedure Take?
The procedure takes 15-30 minutes depending on the size of the area treated.
Immediately after the treatment you will notice a bright redness to the skin. The total healing time depends on the Eclipse MicroPen® setting used and the number of overlapping passes your skincare professional performs. On average, patients are red up to 2 to 4 days. Many patients heal completely in as little as 24 hours. Utilizing the Eclipse Dermal Recovery System®, or other quality skincare products, provided by Dr. Steen, can help to speed up the healing process.
8
When Will I See The Results?
Patients notice an immediate "glow" to their skin. Visible changes to the skin develop over the course of several days and weeks. Results can continue to improve up to 6 months .
9
How Many Treatments Will I Need?
Some patients only require a single treatment once per year to achieve optimal results. However, it is recommended for most patients to receive a series of 2-3 treatments spaced about 6-8 weeks apart. For patients with deep wrinkles, advanced photo-aging, stretch marks or acne scars it is recommended to receive 6-8 sessions at 6-week intervals.
Benefits:

Affordable
Effective
Minimal Downtime
Minimal Discomfort
Safe for Most Skin Types
Natural Results
MicroPen® Patient Review:
---
"I look forward to every treatment, because I see results immediately. All of my friends compliment me on my skin now, and I am so happy. I have had many other treatments before to treat my acne scars, and nothing worked as well as the MicroPen® Elite. I would highly recommend it to anyone!" ~ Elizabeth K.